Dale County's Aviation and Aerospace Advantage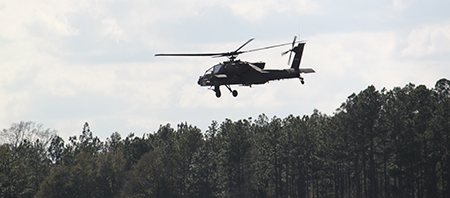 Home to 25 percent of South Alabama's Aerospace Industry, Dale County is a major contributor to Alabama's rich aviation history and innovation. Fort Novosel, in the county's southwest corner, is known as the "Home of U.S. Army Aviation" because of the U.S. Army Aviation Center of Excellence. Fort Novosel is a primary training facility for most of the military helicopter pilots in the free world. Defense contractors are in demand.
Everything from flight simulator cockpit design to training to maintenance, repair, and operations (MRO) is happening in Dale County. Local colleges such as the Alabama Aviation College's main campus and Wallace College provide employers with a reliable stream of aerospace-ready employees to hire. Regional assets are rounded out by Dothan Regional Airport, Ozark's Blackwell Field, and multiple U.S. Military airfields. Dale County has no shortage of commercial, general, and military aviation pilots, and our people rely on their services.
Sampling of Dale County Aerospace and Aviation Companies:
Download the Dale County Aerospace & Military Industry Profile
Testimonials

"
Dale County has been a tremendous community for allowing my business to grow. The aviation resources in the area have provided a fitting background for my industry. I was able to grow my business in the safe, secure, low-cost environment of the Ozark Technology Center for Developing Industry as the Ozark-Dale County Economic Development team helped to transition me through the growth stage into a stand-alone, fully functioning company"
– Todd McGarvey, President/Owner, GlobalStar Aerospace, LLC
LOCATION: Ozark
PRODUCTS/SERVICES: FAA Certified Repair Station

"Brauer Aerospace has been in Dale County since 1983 and we've been able to consistently find workers with the skills we require. Our company will continue to invest in growing our business here."
– Mike Brauer, Owner, Brauer Aerospace Products
LOCATION: Ozark
PRODUCTS/SERVICES: Aircraft parts and equipment