Dale County has Superior Speed-to-Market
Our region's excellent air, rail, port, and road transportation networks reduce the cost and time of shipping your product. Well positioned geographically, some 50 percent of the U.S. population is within a 24-hour shipping distance. Imports and exports continue to rise to record numbers as international companies locate in the region and local companies leverage access to global markets.
Distance to Major Market
| Location | Distance |
| --- | --- |
| Atlanta, GA | 205 |
| Birmingham, AL | 175 |
| Charleston, SC | 425 |
| Charlotte, NC | 450 |
| Columbus, GA | 100 |
| Greenville, SC | 350 |
| Mobile, AL | 195 |
| Montgomery, AL | 85 |
| Nashville, TN | 370 |
| New Orleans, LA | 340 |
| Panama City, FL | 105 |
| Savannah, GA | 325 |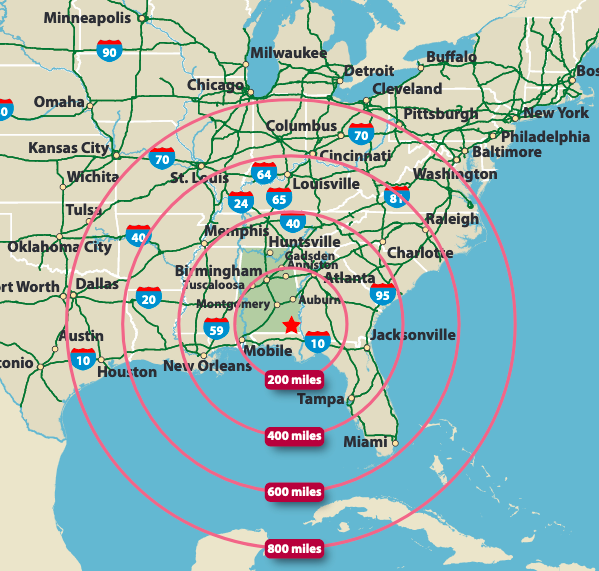 Road
Five four-lane highways: two inside the county (U.S. 231 and 84) and three surrounding the county to the west, north, and south (I-65, I-85, and I-10).
Air
Dale County features one regional airport and a general aviation airport and is a short drive from several others.
Dothan Regional Airport (DHN) serves Southeast Alabama, Southwest Georgia, and the Florida Panhandle with nonstop flights daily to and from Atlanta. Dothan Airport Industrial Park has available space and is designated a general-purpose Foreign Trade Zone area. Expanded hangar space is also available
Ozark Airport Blackwell Field (71J) is a 114-acre public-use airport located southeast of the central business district of Ozark, Alabama. Businesses at the airport include:
Alabama Aviation College: (334) 774-5113
Bradley Aviation: (334) 268-0195
Dale County Sheriff / Wiregrass Aviation Support Program: (334) 774-2335
Friends of Army Aviation: (334) 445-0008
Lewis Aviation Training: (334) 237-4805
Nowell Aviation LLC: (334) 379-8584
Pray Aviation: (316) 519 3399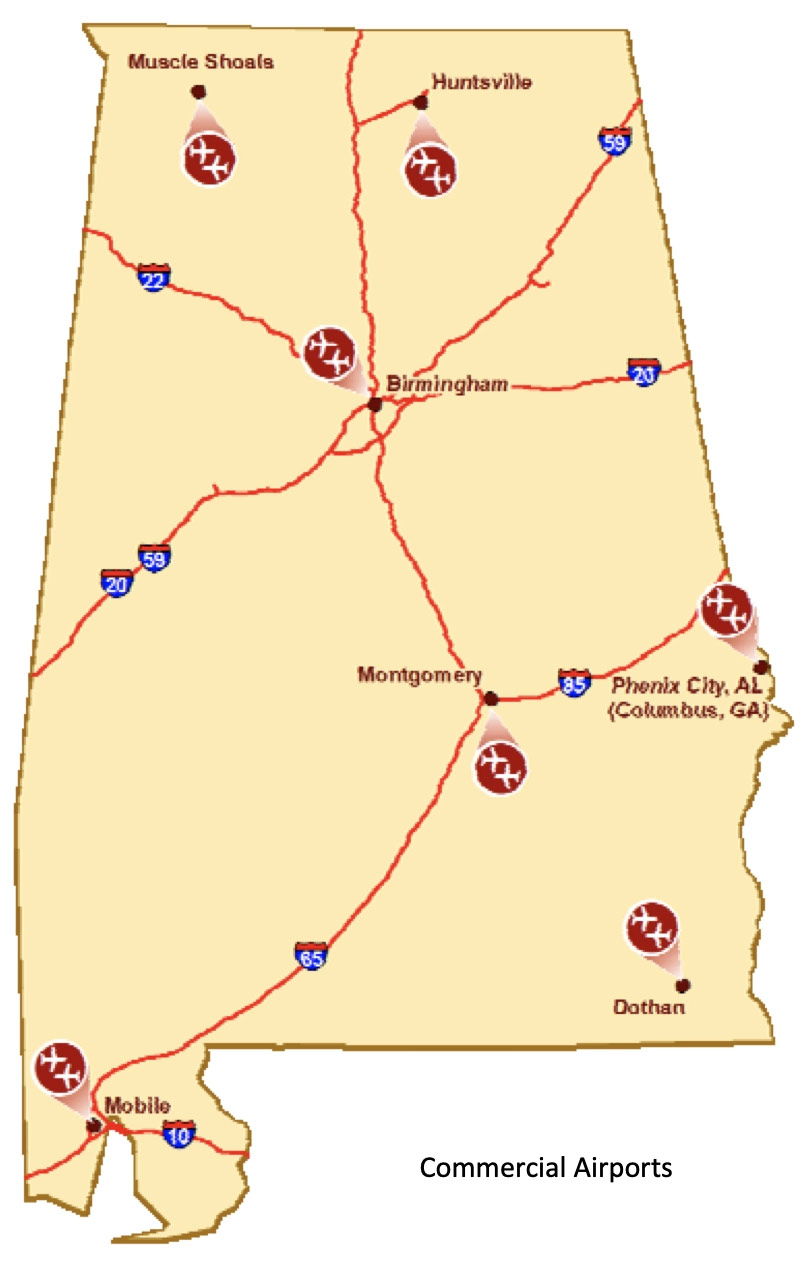 Rail
Dale County offers rail service via CSX connecting to the Bayline (BAYL) in Dothan, Alabama, and Cottondale, Florida, and to the Chattahoochee Industrial Railroad in Dothan.
A Class I CSX rail line provides direct rail connection to Port of Panama City facilities.
Ports
The closest seaport facilities include Mobile, Alabama, and Panama City, Florida. The Port of Jacksonville, Florida, is also an option. Alabama's Inland waterway system includes the nine-foot channel of the Chattahoochee River. More than 100 manufacturing companies in Southeast Alabama rely on seaport access for foreign importation and exportation of their products.